Psychedelics Education & Training: What Operators & Educators Need to Know For a Successful Practice
Description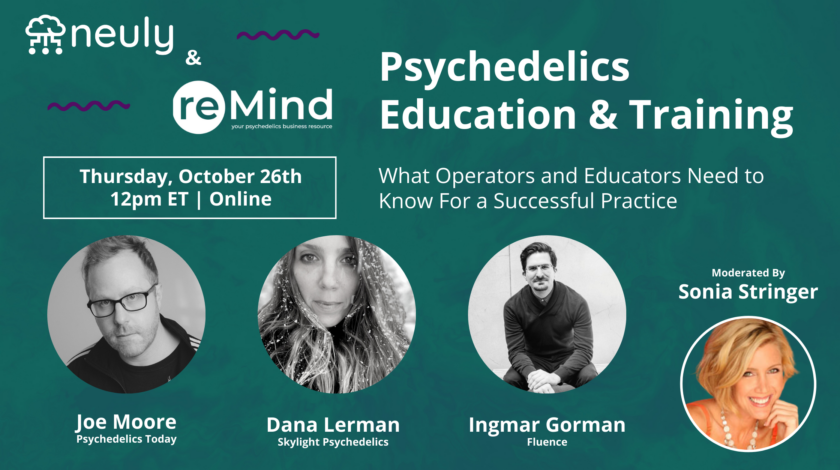 Hear from experienced educators and operators on how to navigate the demanding need for education in the space of psychedelic training and therapy.
Participants
Moderators:
Sonia Stringer
Moderator Bio
Sonia Stringer has been a passionate advocate for psychedelic-assisted therapy since 1998.
She is founder and host of the "Celebrating Women in Psychedelics" podcast and online community that provides networking opportunities, resources and tools to over 700 women from 39 countries who are developing careers in the psychedelic sector.
She is a former National Trainer for peak performance expert Anthony Robbins and has over 25 years' experience as a professional speaker, workshop facilitator and business coach, and has designed and delivered live and online training programs for over 100,000 clients around the globe.
Sonia served on the board of the Psychedelic Association of Canada from 2020 – 2022 where she launched an online membership platform for the association and co-founded the first psychedelic business association.
She currently consults with psychedelic companies and develops training programs for healthcare professionals interested in learning more about the potential of psychedelic-assisted therapy.
Learn more at www.CelebratingWomeninPsychedelics.com or https://www.linkedin.com/in/sonia-stringer
Panelists:
Panelist Bios
Dana Lerman, MD, Co-Founder, Skylight Psychedelics
Dr. Dana Lerman received her M.D. at Mount Sinai School of Medicine, in New York. She completed Internal Medicine residency at The Mount Sinai Hospital and fellowship in Infectious Disease at The Albert Einstein College of Medicine. Dr. Lerman is board certified in Internal Medicine and Infectious Disease. She has worked as an infectious disease consultant all over the United States for over ten years. Dr. Lerman was the founder of The COVID Consultants, a national COVID-19 consulting and testing firm. During the pandemic she identified herself as a wounded healer and began her own mental wellness journey which led her to an ayahuasca retreat in Costa Rica. Since this time Dr. Lerman's passions have shifted focus and she has since received training and certification in Psychedelic-Assisted Therapy from the Integrative Psychiatry Institute (IPI) in Boulder, Colorado. Dr. Lerman is in MAPS training via IPI. She has received further training in trauma via PESI, Internal Family Systems via the IFS Institute, and Ecotherapy with the Earth Body Institute. She volunteers with Zendo Project trip sitting at Burning Man. Her prior personal history of psychedelic use, including work with ketamine, psilocybin, LSD, 5-MeO-DMT, Ayahuasca and DMT and other purgatives such as Kambo, affords her the unique ability to know first hand what clients may be experiencing. Dr. Lerman treats patients at the Skylight Journey Center in Evergreen, CO.
Dr. Ingmar Gorman, Co-Founder, Fluence
Dr. Ingmar Gorman is a co-founder of Fluence, a psychedelic education company training mental health providers in psychedelic treatments. As a psychologist, he shares his expertise in empirically supported psychedelic treatments with his clients and trainees alike. Dr. Gorman received his clinical training in New York City at the New School for Social Research, Mount Sinai Beth Israel Hospital, Columbia University, and Bellevue Hospital. He completed his NIH postdoctoral fellowship at New York University. He simultaneously served as site co-principal investigator on an FDA approved Phase 3 clinical trial of MDMA-assisted Psychotherapy for Post-Traumatic Stress Disorder and is currently a study therapist on the same study, as well as another FDA approved clinical trial of psilocybin for treatment resistant depression. Dr. Gorman has published on the topics of classic psychedelics, ketamine, MDMA, and Psychedelic Harm Reduction and Integration.
Joe Moore Co-Founder & CEO, Psychedelics Today
Joe Moore co-founded Psychedelics Today in 2015 with Kyle Buller. As CEO, Joe has created one of the world's best known psychedelic podcasts, blogs and training platforms. Joe combines twenty years of avid research and training in psychedelics with twenty years of experience in software and multinational project management. Joe is an expert in transpersonal breathwork and much sought after international speaker on the intersecting subjects of psychedelic medicine and healing, breathwork, drug policy, medical innovation, international justice and environmentalism.
By clicking submit above, you agree to the Emerald Privacy Policy and Terms of Use.
Last updated: Oct 26, 2023